SELF EMPLOYED
Are you self employed and looking for a Mortgage Broker
that understands your financial circumstances?
Book a Call
Helping you find the right mortgage
There are many advantages to being your own boss, however if you are self employed then that can make getting mortgage approval a challenge.
Different banks and mortgage lenders have different criteria and requirements for self employed clients. It can be hard for you to find the bank that suits your particular circumstances.
It's not impossible by any means, but finding the right mortgage lender and getting mortgage approval can cost you time and money. At MortgageLine we use our expertise to find the right mortgage lender and work with you to get your mortgage approved. Even the most successful business owner needs help when it comes to getting a great deal on their mortgage.
Here at MortgageLine we have many years experience helping self employed clients get mortgage approval. We will take you through every step of the application process and negotiate with a range of mortgage lenders to secure the right mortgage for you..
Mortgage Calculator
If you need mortgage advice then we can help
Whether you are a sole trader or have a limited company or are a contractor with less than 2 years accounts then we can help. We will find a lender who will assess your application on its individual merits.
We have access to mortgages that are not available on the main street and will seek the best and most suitable deal for you.
Self-employed – sole trader or partner

Contractors such as engineers, medical or IT professionals

Limited Company Directors
Is it hard to get a self employed mortgage?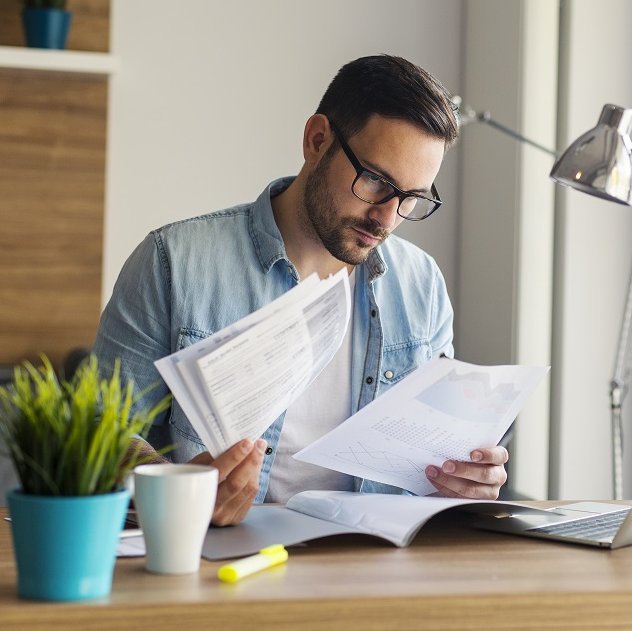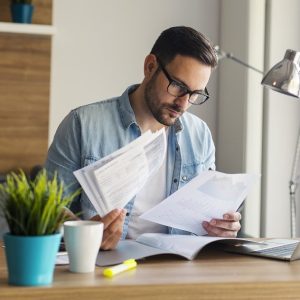 Being self employed can make it more challenging to get a mortgage but certainly not impossible, far from it. If you have chosen to go self-employed for the flexibility and freedom that it can offer then it may be difficult to meet strict mortgage lending criteria and affordability checks, even when your business is on the up.
The good news is that there are mortgage lenders that can be more flexible and understanding of the self employed situation. However it is really important the mortgage adviser you work with takes the time to understand your business and how you work. The difference between a mortgage approval and a mortgage decline can be as simple as something not being explained correctly and comprehensively. That is why it is essential to work with a professional
Mortgage broker who can find the mortgage that is right for you.
Ways to prove your income
To secure a mortgage it is essential that you explain and provide proof of income. The most common ways for a self employed mortgage seeker to prove income are as follows:
Who can get a self employed mortgage?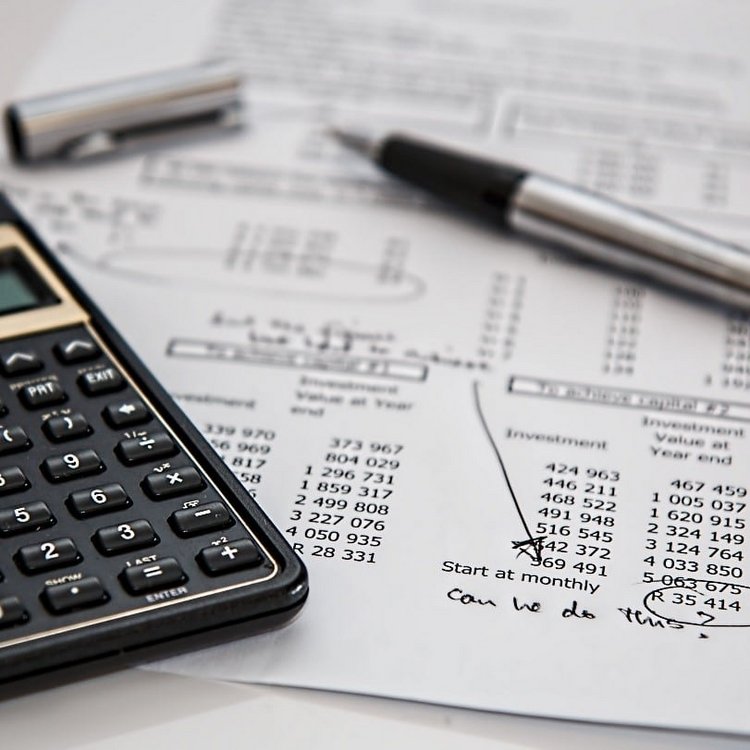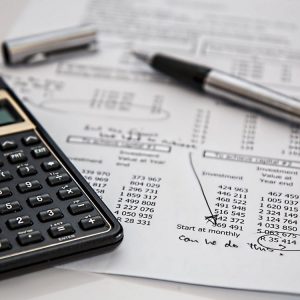 Being self-employed can be seen as risky, as far as a mortgage lender is concerned, because it can be difficult to establish your income and some traditional lenders may assume that you may struggle to make your monthly repayments.
The fact is that the self employed mortgages available to you are conventional mortgages rather than a special financial product specifically for the self employed. However you will be expected to jump through more hoops to demonstrate your financial health and income. Self employed income is not always straight forward. It is vital that everything is explained and presented properly to the mortgage lender.
Improve your Chances
Trading for more than 2 years
Have an accountant
Healthy bank accounts
Audited accounts
A healthy deposit
Clean credit record
How will my self employed business structure affect my chances of getting a mortgage?
The biggest challenge for most self employed mortgage applicants is proving their income and explaining everything properly to the bank or mortgage lender.
Sole Trader & Partnerships
As a sole trader you may or may not pay yourself a regular income and you may have had a bad year. A mortgage lender can look negatively on these things. However if there are genuine reasons that make sense and income is secure going forward then mortgage lenders can be flexible. It is really important that the mortgage lender takes into account any profits that remain in the business and looks at your overall financial position.
Limited Company
A Director of a Limited company will be considered as an employee and will have to provide the normal PAYE documents like payslips and bank statements. However the bank will also want to see company accounts and tax returns to confirm the business can afford to pay you the salary that you need to get the mortgage. Determining your overall income can sometimes be a challenge, particularly if you take a low salary. An expert mortgage broker will look deeper into your overall situation and find the correct level of income that a bank will take into account for mortgage approval. Make sure you have an expert mortgage broker on your side
Less than 2 years accounts and a short trading history
low personal income even though the business is doing well
Business showing a loss in one of the last 3 years
Buying out an X business partner
If this is your situation then don't panic!
These challenges can sometimes be overcome with some good advice. If you are currently taking a small income for tax purposes or if the business has recently made a loss but going forward is strong then we might be able to help.
At MortgageLine, we know the challenges that you might face and how to overcome them. At the very least we can talk things over with you and see where you stand.
How are self employed mortgages calculated?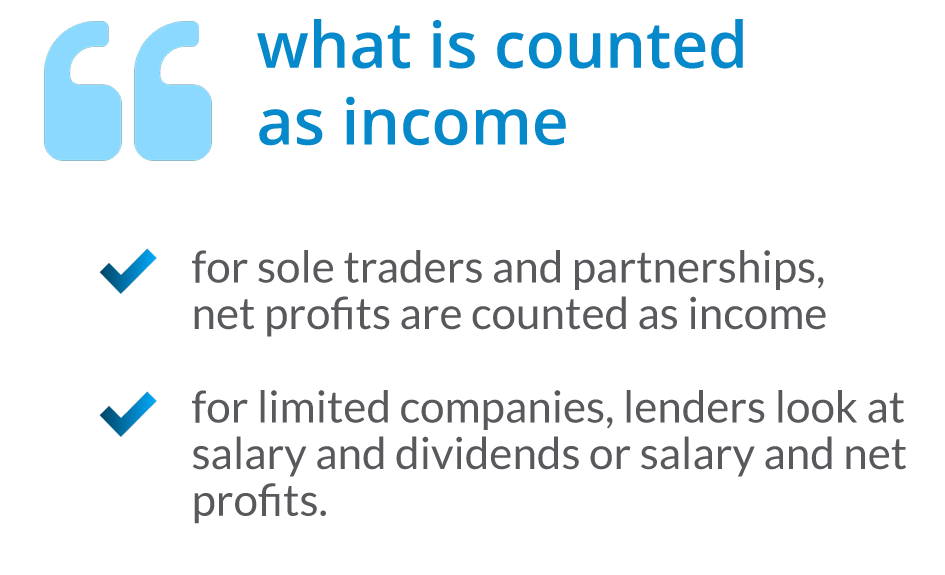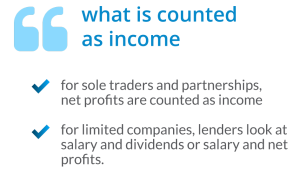 Your income level and personal circumstances, like your age, will determine the size of a mortgage you can get.
Different mortgage lenders will look at your income in different ways. Some will look at an average of your income over the last 2 or 3 years or what the business can afford to pay you.
For a new business it may be better to be assessed on the last 2 years income rather than the last 3 to maximize the income.
If you have a second income available to you from another source like rental or investment income etc., then it might be possible this can be factored in too.
What is counted as self employed income?
For sole traders and partnerships the business gross net profits (before tax) are counted as income.

For Limited companies mortgage lenders can look at your salary and net profits combined.
Looking for a Mortgage?
Find the ideal self employed mortgage with MortgageLine.
If you are self employed and want the best mortgage options then talk with MortgageLine. We can help make your dreams of buying a home a reality. Whether you're a first time buyer with a startup or a contractor with less than 2 years of accounts, we can help you to navigate the mortgage market quickly and easily. We will take the time to analyse your situation and find the best mortgage solution..
If you are looking to save time and money and need the help of an expert mortgage broker with experience working with self employed mortgage applications then contact us.
Apply Now